One of the most common home heating systems is a boiler, and that's especially true for older houses in Wisconsin and other cold-climate areas. Boilers heat water, and then distribute hot steam or hot water to rooms through a series of pipes to heat the home. Steam is sent to radiators, while hot water flows to radiators or radiant heating systems. New systems are very energy efficient, with efficiencies as high as 98.5 percent.
What Type of Boiler do You Have?
Boilers are called central heating systems because the equipment is in a central location, and the heat is spread throughout the home. However, unlike other heating methods, there is typically a lag time between the boiler turning on and the heat being dispersed.
Most boilers produce steam or hot water using natural gas or heating oil, and all are either condensing or non-condensing (see below). Boilers are required by the federal government to be at least 80 percent efficient and can have efficiencies as high as 98.5 percent. Some boilers can be expensive to install, but all types typically last 15 to 30 years.
What to Consider Before You Buy
Fuel Type
Gas-fueled boilers may cost less to operate than oil-fueled ones if heating oil prices are high. However, the fuel type you choose will depend on what's available in your area.
Sizing
The boiler's size is as important as its efficiency. If the boiler is undersized, it won't work efficiently; if it is oversized, it will cost you more to heat your home. At DG Heating & Cooling, we use an Air Conditioning Contractors of America (ACCA) Manual J calculation to determine the right boiler type and size. The calculation will take into consideration your home's foundation, wall thicknesses, insulation values, windows, air filtration and more.
Cooling
Boilers only provide heat; so you'll need a cooling system, too, if you want to air condition your home.
Energy Efficiency
Boilers are rated with an annual fuel-utilization-efficiency (AFUE) score, which tells you how much energy is being converted into useable heat. New boilers must have an AFUE rating of at last 80 percent, and high-efficiency models are 90 to 98.5 percent efficient. The higher the rating, the higher the equipment cost, but the lower the operating cost.
For example, say your current boiler's AFUE score is 65 percent and you pay $1,300 a year for fuel bills. If you install a high-efficiency natural gas system with an AFUE of 90 percent, your total yearly savings should be about $364. Therefore, DG Heating & Cooling looks out for you by being a trade ally with Focus on Energy program in Wisconsin with rebate incentives for upgrades of efficiency.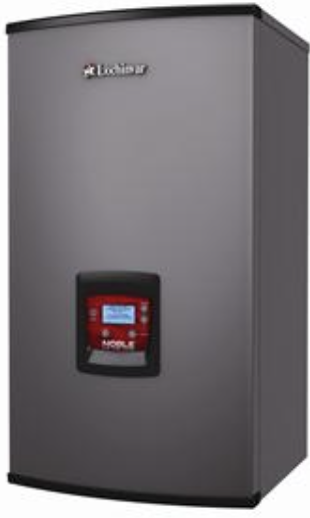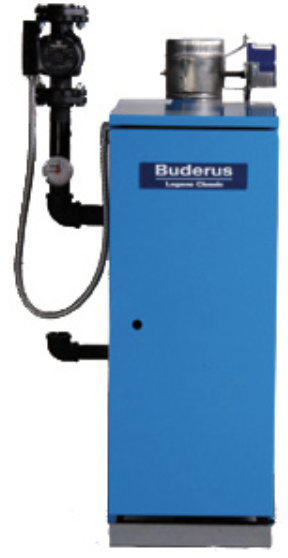 95% EFFICIENCY LOCHINVAR CONDENSING BOILER
SMART CONTROLTM Enhanced Operating System
Outdoor Reset Control with outdoor air sensor
1″ Water Connections & 1/2″ Gas Connections
2 Pump Controls: System Pump & Boiler Pump
Vertical and horizontal direct-vent: PVC, CPVC, Polypropylene or Stainless Steel Venting up to 100 feet
Low water flow safety control and indication
BUDERUS NONCONDENSING BOILERS
Features 3 Models with inputs from 74,000 to 132,500 BTU/Hr
85% AFUE efficiency
Compact boiler with advanced low temperature technology
Side piping design for convenient boiler retrofit installation
Limited lifetime warranty
3 Models with inputs from 74,000 to 132,500 BTU/Hr
Stainless Steel Corrosion Resistant Premix Burners
CSA approved for installation on combustible floors